Even if you only have one small facility, it's hard for a maintenance manager to work from spreadsheets, coordinate internal and external teams, manage asset data, track maintenance schedules, and navigate work orders. The larger your operation, the more unwieldy manual processes become. Excel spreadsheets don't work very well at scale. And they won't cut it when you have thousands of assets to manage with various compliance regulations and maintenance schedules.
Computer aided facility management (CAFM) software empowers modern organizations to streamline maintenance processes and manage their resources more efficiently. With CAFM software, you can automate tedious administrative tasks, track the status of projects and assets, streamline preventive maintenance, reduce unscheduled downtime, and vastly improve visibility into your facilities and assets.
Tango's CAFM solution, Tango Maintenance, is part of our larger IWMS suite. Enterprises all over the world use our tools to organize location data and improve their operations. In this article, we'll examine the specific ways computer aided facility management software benefits your organization and the advantages of choosing Tango.
Benefits of CAFM software
CAFM software modernizes your maintenance programs, cutting down on unexpected repairs and streamlining the process when things do need to be fixed or serviced. With a solution like Tango Maintenance, you can get more from your assets and simplify facility maintenance at any scale. Here's what CAFM does for your business.
Streamline work orders
When equipment goes down, you may have ongoing hard costs, like lost sales or decreased output. You might also have ongoing "soft" costs, like when an HVAC failure makes employees uncomfortable, or a burst pipe makes a workspace unusable.
The longer it takes to execute repair or replace decisions, the more these costs add up. So you can't afford to let work orders fall through the cracks or become stranded in a "no man's land," where no one knows who's responsible for the work, what needs to happen next, or how to prioritize each project. But you also don't want to move forward with (and pay for) work you aren't responsible for.
Tango Maintenance streamlines work order management by automating work order routing, ensuring that each work order gets to the person who will actually perform the work, and continuing to automate handoffs as each step of the order is completed. Additionally, Tango can include an asset's:
Work order history
Net present value (NPV)
Service level agreements (SLAs)
Not-to-exceeds (NTEs)
Integrate Tango Maintenance with your lease administration software, and facility managers can even see your responsibilities under your lease, giving your team the context they need to make repair or replace decisions with confidence.
Just as important: Tango simplifies the process of making service requests and turning them into work orders. Employees don't have to track down individuals or use ad hoc processes to flag assets for repair. They can simply issue service requests through a mobile-friendly interface, and Tango takes care of the rest. The request goes to your facility manager, where they can turn it into a work order.
Simplify invoicing
Invoices are another area where maintenance projects can slow to a crawl. If you can't quickly and efficiently pay your vendors, disrupt your maintenance budget, and it may even deter that vendor from prioritizing work from you in the future.
This is another area where Tango makes life easier for you and your vendors. You can give external partners direct access to create invoices within Tango Maintenance, and then Tango follows your guidelines to ensure the right people see and sign off on them. Our CAFM software also ensures invoices align with your work orders, assets, and maintenance budget.
Automate preventive maintenance schedules
Unscheduled downtime can significantly disrupt your business. Depending on the asset, it could mean losing revenue or decreasing employee (and/or customer) satisfaction. But the more assets you have, the harder it is to stay on top of preventative maintenance. Every asset has its own maintenance schedule based on its compliance regulations, SLAs, warranty, the life expectancy of individual components, and more.
While it can be complicated to track manually, computer aided facility management solutions let you automate these maintenance schedules, ensuring that every asset gets the proactive maintenance it needs and you know when critical dates are approaching.
By helping you stay on top of preventive maintenance, CAFM software helps your assets perform better and last longer. When you keep your equipment in top shape, you don't have to replace it as often. You'll also create a safer work environment, where lack of maintenance will only leads to malfunctions when you choose to defer it.
Improve access to asset data
It's not uncommon for large organizations to lose track of assets altogether. You may even forget some of them exist because they're rarely used or require little maintenance. This obviously creates challenges when things break, and someone has to make a repair or replace decision.
Even just seeing a piece of equipment's work order history gives valuable context. A maintenance manager can see that a boiler has a history of leaking, or that a faulty thermostat has been to blame for HVAC failures in the past. Previous work orders and associated expenses may be enough to make your decision, or it could impact whether you choose to hire an outside specialist or solve the problem internally.
Often, facility managers are forced to make decisions in a bubble without the information they need to make the right choice for your business. Suppose you purchased an asset before they started working at your facility, and they don't know it's still under warranty. (Or that their decision to repair it in-house would void it!) Or they don't have access to relevant lease clauses, so they assumed you were responsible for common area maintenance (CAM), which your landlord already agreed to cover. They may even install a new roof when a repair would've lasted you until the end of your lease term. These decisions happen all the time, and you get stuck paying for repairs and new equipment you could've avoided or received for free.
Tango Maintenance keeps all documents and data associated with an asset organized. When work orders come through, your team can easily access all the information they need to repair or replace the asset, defer maintenance, or find a "band aid" solution to hold you over.
Coordinate with internal and external teams
Even with a top-notch maintenance team, your assets are bound to require specialized expertise and certifications now and then. Any time your facility needs work, your facility manager has to determine who will do it: an internal employee or an external vendor.
The more people you have working on a project, and the more you work with external partners, the more essential it becomes to have an accessible system that everyone can use and interact with. You want specialists to have access to relevant information about the asset. And you want your employees to have easy electronic access to any notes or documents from the vendor. While every company you work with will have their own forms and processes, you want a single system that everyone can use to coordinate work and collaborate on projects.
Without CAFM, facility managers may have multiple conversations with vendors and employees taking place over email, text messaging, phone calls, and IM channels, making it difficult to keep up with the status of a job and get all the right information to decision makers.
Tango Maintenance lets you give limited access to vendors, so you can communicate and assign work from within the software. This way, you're not constantly checking different channels and losing track of key information about an asset. Everything is tracked and communicated in a single CAFM solution.
Eliminate maintenance bottlenecks
One of the side effects of a poorly organized maintenance system: everyone has to rely on specific employees to get critical information.
It could be that your facility manager has had to build their own system for organizing asset data like work order history, warranty information, and expenses—and no one else knows how to access, navigate, or interpret it. Maybe they're the only one who knows who to contact about a particular problem. Or they've developed a highly informal process for assigning work—like giving directions in-person—which makes it difficult to access records, know who's responsible for a task, and keep work orders moving.
Maintenance bottlenecks crop up all the time, and they often mean that your ability to get assets operational depends on a single person. You can't let crucial maintenance information and processes only live in an employee's head. If they get sick, go on vacation, or leave the company, you're in trouble.
So, how do you eliminate these bottlenecks? CAFM. Computer aided facilities management software makes all of this information accessible to the employees and vendors that need it.
But it's not enough to simply have the right tools to organize your maintenance data. If it doesn't make life easier for your facility managers and maintenance workers, they won't use it, and your organization won't benefit from it. Tango Maintenance blends advanced capabilities with a simple, intuitive user interface. Your maintenance team will appreciate a more convenient way to work, and you'll enjoy a more organized system.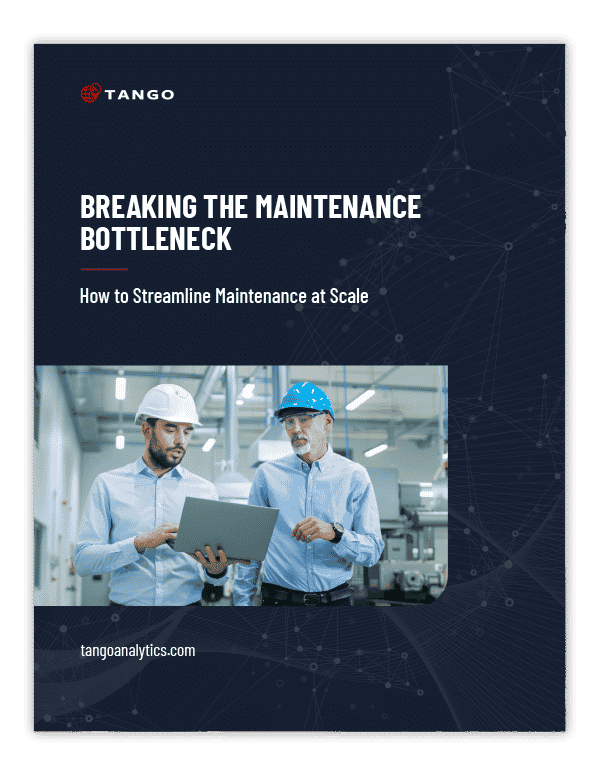 Standardize maintenance processes
The more locations and maintenance employees you have, the more important it is that you have consistent, repeatable processes in place. You want every facility to make choices that align with your location strategy and generate the outcomes that matter most to your business.
That can only happen when everyone uses the same system in the same ways. Particularly in large organizations, it's common for different locations to adopt their own tools and develop unique systems for organizing data and handling maintenance tasks.
Tango makes it easy for all your locations to use the same tools and processes, whether your portfolio includes offices, stores, manufacturing facilities, warehouses, healthcare clinics, and/or other facilities.
Integrate maintenance data with your other tools
Even with the best tools available and excellent organization of a location's maintenance data, your facility managers will make some wrong decisions if they don't have access to the big picture. Sure, they don't need to perform lease accounting tasks, optimize your space, or manage your construction projects, but greater context from other IWMS modules could prevent costly mistakes.
Why pay to repair or replace equipment you're not responsible for, or that you won't receive most of the benefit from? Businesses do it all the time due to lack of integration with other datasets. But that doesn't have to be you. Tango Maintenance fully integrates with your other systems, pulling in any relevant data your maintenance team should know.
Similarly, your maintenance data can feed into other kinds of business decisions, too. Would you still want to renew that lease if you knew the facility needed to replace major components of the water cooling tower, and that you would be responsible for those costs? Is a new HVAC system something you should negotiate for? Is it time to renovate to accommodate a bigger, better piece of equipment?
Modernize your facilities maintenance
A single repair-or-replace decision can get expensive fast. And when those decisions are made based on incomplete data, they often represent wasteful expenses. Multiply those wasteful expenses across your entire lease portfolio, and you could be wasting tens or hundreds of thousands of dollars per year.
Tango Maintenance gives your team the context they need to make informed choices, and automatically routes work orders to the right people at the right time. From start to finish, Tango streamlines service requests and supports your maintenance processes. Our software can also pull relevant data from the rest of your IWMS suite, giving your maintenance department fuller context about each asset, including landlord and tenant responsibilities, how the asset fits into your real estate strategy, the project it was part of, and your location's total CAP/EX and OP/EX.
Want to see how Tango Maintenance can improve your workflows?