A single enterprise may have thousands of leases in its real estate portfolio. Corporate landlords can have just as many. Each of these leases has specific contractual obligations both parties must comply with. They also contain deadlines, clauses that influence decisions, and terms that define how each organization should respond to a given situation.
While the terms and language are often similar, every lease is unique to the property, facility, and organizations involved. And that makes lease administration incredibly complex.
Lease administration is sometimes conflated with lease accounting. Both fall under lease management, and while there's a lot of overlap, they are more like two sides of the same coin. Both teams or departments need access to similar documents and resources, but accountants focus on compliance with standards like ASC 842 and ensure that both tenants and landlords take care of their financial obligations to the lease. Lease administrators make sure their respective party maximizes the opportunities defined in the lease, reacts appropriately to changes in circumstances, communicates with the other organization, and follows the timeline.
For example, if a business has a lease in a multi-tenant location, such as a shopping center or office building, and another tenant moves out, that could trigger an opportunity buried in a co-tenancy clause. Lease administrators can identify these terms in the lease and help businesses act upon them at the appropriate time.
Business executives and other departments may also need to make decisions based on reports that come from the organization's lease-related data. Lease administration produces many of the reports an organization would use to evaluate whether they should buy or lease a property, set a budget, or renew or terminate an existing lease.
This guide will examine the responsibilities involved in lease administration, the challenges of doing this at scale, and how modern enterprises handle lease administration today.
Lease administration responsibilities
Lease administration encompasses a broad range of tasks and processes, but they generally fall under a few key categories. Lease administration departments:
Help tenants and landlords track key dates for each lease and take the actions needed
Make critical information more visible and accessible to decision-makers
Ensure assets are managed in accordance with the lease and keep projects moving
Maintaining lease schedules
Every lease has its own schedule. There are specific dates when an organization needs to apply to renew a lease, finalize common area maintenance (CAM) payments, or exercise a particular clause. And of course, someone must ensure the organization pays rent on time. If your company uses subleases, lease administrators also have to collect sublease payments.
It takes work to sift through lease documents, pull out the critical dates, and build them into a schedule. Lease administrators do this work and make it accessible to accountants and other decision makers. Over the course of the lease, negotiations between tenants and landlords may change the duration or timeline of the agreement, and administrators need to keep the schedule up-to-date.
Maintaining a reliable lease schedule helps leaders from a variety of departments make more informed decisions. For example, if a lease's term is about to end and you don't plan to renew, you probably don't want to invest in costly repairs you won't reap the benefits from.
Some aspects of a lease, such as a tenant improvement allowance, may be connected to specific projects that have to be completed according to particular specifications. A lease administrator will play some role in ensuring that the project gets executed in compliance with the agreed upon terms.
Tango Lease makes it easy to keep your leases on schedule. This specialized lease administration software identifies critical dates from your portfolio, creates lease schedules, and alerts you when important events and deadlines are drawing near.
Increasing access to key lease details
Corporate leases are dense legal documents with pages and pages of clauses. Along with the lease itself, there are numerous documents someone may need to navigate in order to answer questions about an individual lease and its unique circumstances.
When a business leader needs to know something specific about a lease, they don't always have the time or expertise to wade through the jargon and find the information they need—or to organize it in useful ways. Lease administrators dive into the documentation to answer questions and assemble reports that enable other departments and leaders to make informed decisions.
With Tango Lease, your entire portfolio is at your fingertips, and the information you need is intuitively organized, so your team can access and share lease details faster.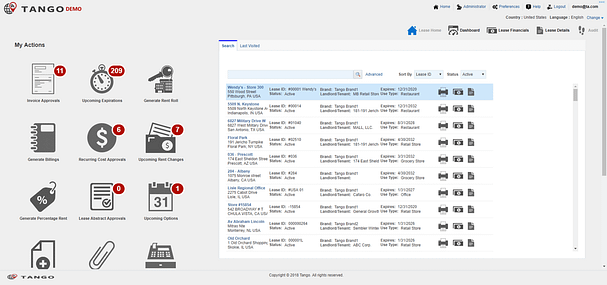 Managing leased assets and related projects
Ultimately, lease administration includes all of the day-to-day operations involving leases, and any changes to the property have to be done according to the agreement between landlord and tenant. Lease administrators don't directly manage construction projects, but they do hold project managers accountable to the lease, keeping projects on time and confirming that any decisions comply with the documentation. They also maintain communication between landlord and tenant if anything needs to be renegotiated or discussed.
Tango Lease identifies every leased asset in your portfolio—even if it isn't explicitly referred to as a lease—and pulls together everything you need to manage that asset. You can quickly give your facilities maintenance team the context they need for repair or replace decisions and help project managers follow the parameters defined in the lease.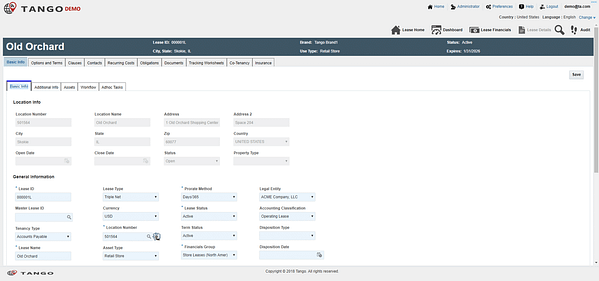 Challenges with lease administration at scale
The larger your real estate portfolio, the more unwieldy it is to manage. Lease administration becomes more vital to an organization the more leases they have, but it also becomes far more difficult. Even with a dedicated team or department, your organization will inevitably miss some important dates, overlook crucial clauses, and drop opportunities to reduce costs.
Here's why so many modern lease administration teams and departments struggle to maximize the value of their lease portfolios.
Lack of time and resources
Every year, lease administrators spend hundreds of hours crawling through documents to build reports and keep lease schedules on track. While they have the expertise to pull out the key information and organize it in useful ways, they often don't have the time to comb through your portfolio for untapped opportunities. And with how many large portfolios are handled, seeking out unutilized clauses and cost-savings isn't always a good use of their time without a narrower focus. It simply takes too much time to navigate spreadsheets and wade through legal jargon.
Complexity of corporate lease portfolios
Between subleases, renewal windows, termination clauses, tenant improvement allowances, CAM reconciliation, co-tenancy clauses, and other lease terms, your real estate portfolio can grow incredibly complex.
Each lease has its own unique circumstances and language. Suppose you have a handful of similar locations that experience similar changes in circumstances, such as a prominent co-tenant moving out, or a sharp decline in foot traffic. How you can react to these changes ultimately depends on each individual lease and landlord. They may let you terminate the lease early, or renegotiate rent based on the new circumstances. Or you may still be on the hook for the original agreement.
The point is, every situation takes time and attention to understand and process. Even if you have the same landlord and similar terms for a hundred locations, changes to one lease won't necessarily affect the others.
To make matters worse, the same clause or lease term could be worded differently from lease-to-lease, making it more difficult to find the terms and clauses that could impact a decision or lead to cost savings. Lease administrators have to recognize the nuances of what each term is technically communicating and understand how that affects the leased asset and the business.
When it comes down to it, even with teams of professionals pouring over their portfolios, most large enterprises pay more lease-related operating costs (and penalties) than they need to and miss out on valuable opportunities to adjust their portfolios. Depending on the size of your business, you could be wasting tens of thousands or even millions of dollars in real estate expenses.
And that's why many modern organizations are equipping their lease administrators with better tools.
How modern organizations handle lease administration
Even the best lease administrators can be held back by a lack of organization. The faster your team can find the information they need, the faster they can turn it into insights your business can use. In the past, large companies have been stuck manually building databases, compiling information, and creating convenient ways to access and explore their lease portfolios.
But even the best spreadsheet is still just a spreadsheet. These documents are easier to navigate than the leases themselves, but they're cumbersome and difficult to manipulate—and there's always the risk that someone will use a version that's outdated.
Instead, modern enterprises are relying on lease administration software to organize their lease portfolios. With tools like Tango Lease, you can filter your leases based on specific qualities, examining your entire portfolio or diving into a particular lease. Your team doesn't have to worry about what documents are where—everything they need for each lease lives in the same place, and key clauses and terms are right at their fingertips.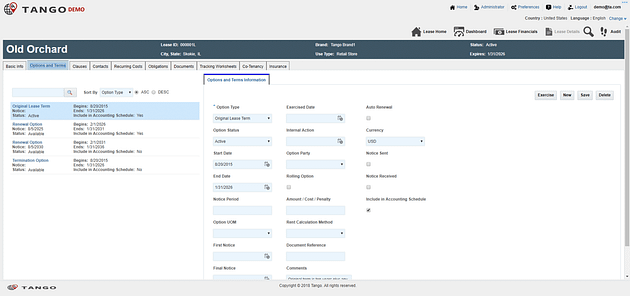 And while lease management takes a great deal of expertise, many of the routine tasks and processes involved are highly repetitive—and that makes this an excellent use case for automation. Tango Lease helps you easily identify lease clauses and terms you need to pay attention to, and it automatically generates multiple schedules for each lease. As renewal windows and other key dates approach, your team will get automated notifications to ensure you don't miss any opportunities.
Benefits of lease administration software
For businesses with multiple locations, lease administration software like Tango Lease streamlines the tasks and processes your team performs every day. Equipping your team to quickly comb through your portfolio can result in more favorable negotiations, lower costs associated with your leases, and greater visibility into your portfolio.
Better lease negotiations
Having convenient access to insights about your lease portfolio empowers your business to enter negotiations with greater context. You may already have hundreds of leases with the same landlord. Using software, lease administrators can conveniently identify favorable terms the landlord has accepted elsewhere.
You may also have similar locations with other landlords. If your administrators can create clear comparisons between these sites and properties, you can often leverage their similarities to negotiate better lease terms. Tango Lease makes it easy to filter your leases based on shared characteristics.
Not to mention, when you miss critical dates for renewals and other deadlines, you immediately lose negotiating power. You're on the defensive, trying to regain the deals you already had. If you have thousands of leases, some of these dates are bound to fall through the cracks. Human errors happen. But with software, your team can increase visibility on lease schedules and use automation to prevent missed renewal windows.
Tango's Critical Dates feature automatically tracks and notifies you about key dates and action items, so no matter how many leases you manage, you'll always stay on top of the renewal process, and you'll know when it's time to act on a clause.
Lease management software puts each lease within the context of your entire portfolio. Using an intuitive dashboard with convenient filters, you're better equipped to recognize what's fair, draw comparisons between leases, see opportunities for leverage, and advocate for your business.
Reduced operating costs
Better lease negotiations can lower your operating costs and lead to more favorable terms. But lease administration also helps you make better use of the terms you have right now.
For example, businesses that use Tango Lease have reduced rent by as much as 60% on one-quarter of their portfolio by discovering unexercised co-tenancy clauses. Using Tango's CAM/OPEX Reconciliation feature, they've automatically identified overcharges and reclaimed hundreds of thousands of dollars across their portfolio.
Just as importantly, lease management and accounting software saves your team time—empowering them to focus on opportunities that require more of their expertise. With Tango Lease, your lease administration department could save hundreds of hours on things like:
Managing CPI rates
Handling receivables for subleases
Monitoring lease renewals and key clauses
Determining percent rent scenarios
Handling invoices and payments
Navigating compliance requirements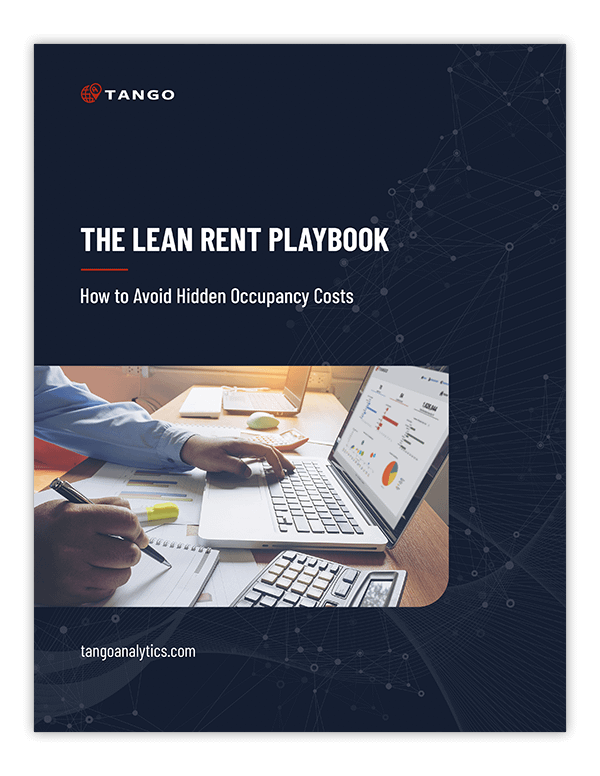 For a deeper dive into how software like Tango Lease reduces your operating costs, download your free copy of The Lean Rent Playbook.
Greater visibility into your real estate portfolio
Perhaps most importantly, lease administration software makes your entire portfolio more visible—to lease administrators and your organization as a whole. One of the greatest challenges large enterprises face with lease administration is that this information could impact countless decisions at each individual location, but it often doesn't, because it's too inaccessible.
The facility manager doesn't know the lease is about to end and that you're not renewing, so they make costly repairs that could've waited until it was no longer your responsibility. The store manager doesn't realize that their co-tenant's departure has created an opportunity to lower rent. Or your design and construction department didn't know that their remodeling project violated your agreement with the landlord.
For every location, there are hundreds of scenarios where better visibility into your lease portfolio would lead to better, more informed business decisions. With Tango Lease, your lease data can easily integrate with other IWMS software modules, empowering other decision makers to see and explore relevant lease information.
Level up your organization's lease administration
Without dedicated lease administration software, it's easy to miss dates, clauses, and opportunities in your lease portfolio. There's simply too much information for your employees to parse efficiently. Thankfully, Tango Lease's artificial intelligence can recognize the terms and information that matters to your team, and bring it to their attention when it's time.
Want to see what Tango Lease could do for your organization?
Schedule a demo of Tango Lease today.