HERE COMES THE RAIN AGAIN
Like most Americans, endlessly scrolling through Netflix's menu has become an evening ritual for the better part of the last eight months, and this lazy mid-May Sunday night was no different. It was raining outside, not a light rain, but the kind of rain that reminds you that Mother Nature is running the show. There are few things that make me feel as calm as a heavy nighttime rain, and I started to feel myself slipping into a light sleep.
I'm not sure exactly how long I was out, but my cat nap was interrupted by my wife shaking me and asking if I had checked the basement. The basement? It took me a minute to figure out I was not dreaming, although I wish what transpired was merely a bad dream. My wife was getting inundated with text messages from friends in the neighborhood asking if we were flooding like them.
In the last six years we have had only one mild flood, so it hadn't occurred to me to check. I jumped up and ran down to our furnished basement to a cesspool of water and waste. Much of the basement was under a few inches of muck, and all the cushions from our sectional sofa were on the ground soaking wet, complements of my children's untimely decision to build a pillow fort earlier in the day.
It had been raining since Thursday and unfortunately I did not receive the Sunday night flash flood warning for Chicago from the National Weather Service, which cautioned, "a band of rain is producing one to two and a half inches of rain in less than an hour."
Fast forward to mid-November and we are only now putting the final touches on a major, unplanned, renovation of our basement.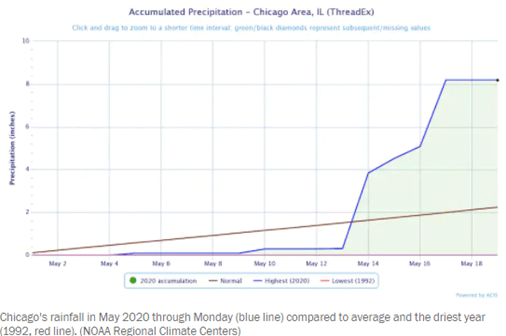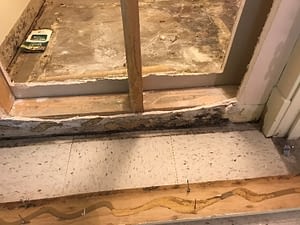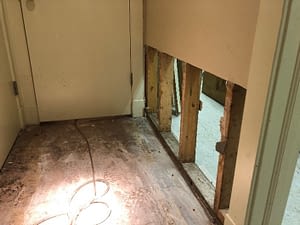 You are likely asking yourself what does this have to do with the impact of the pandemic on retail store location strategy and the store lifecycle? Stay with me a little longer and I'll make the connection.
There was a lot to replace in our basement – kids toys, a sofa, coffee and end tables, a refrigerator, fixtures, and a TV (the last one wasn't technically necessary since the existing TV was not damaged, but what can I tell you?). And all of it had to be researched and purchased during a pandemic, where many stores were only open on a limited basis or not at all.
Being in the software business, I am as progressive as anyone when it comes to digital commerce. But even for me, the "buyer journey" necessarily changed, as did how retailers enabled my purchases. And if you believe the data, we're never going back to the way it was.
To illustrate this point, let's look at one of these purchases, a new coffee table. I started out by surfing all the usual suspects' websites looking for a round coffee table, including attempting to look through 3,788 results for "Round Coffee Table" on Wayfair's website. Nothing jumped out at me, so I searched Google Shopping to see if there were any brands I had been missing. Soon everything started to look the same and I stopped searching. Over the next few days, I was inundated with ads everywhere I turned – my personal email account, Facebook, my iPhone, you name it.
Needing a break, I stopped looking at tables for more than a week until multiple seasonal catalogs came in the mail. After leafing through a few, my wife and I found a table we liked. From there I went online and read reviews and noticed that several complained about the tabletop staining easily and being difficult to clean. Still interested in the table, I called to store to see if they had the table on the sales floor and was told yes.
A few days later my wife and I jumped in the car to head to the mall after work. Halfway there it dawned on me that the store might have restricted hours and, after calling, I found out the store closed at 6pm on weekdays because of the pandemic. We turned the car around and headed home. Two days later, during the weekend, we successfully entered the store and were able to see and touch the table and ask the sales associate about the staining issue. On the drive home my wife and I discussed the table and the fact we really liked how it looked and made the decision to buy it, because what could go wrong with a young dog, two kids under 10 and a coffee table that stains easily? By the time we made it home, my wife had bought the table on her phone.
In looking back at our buyer journey it was clearly impacted by the pandemic. Normally we would have just headed to the mall to visit multiple stores and bought the table, but because we wanted to avoid contact with other people, our approach necessarily changed. Instead, our journey morphed into a true omni-channel purchase, including touchpoints across channels – desktop, social, mobile, phone, instore and delivery.
Post-pandemic I am likely to follow a similar buyer journey and will not go fully back to the way I used to buy, and that's the point of telling you about our unfortunate flood. The pandemic has permanently shifted my shopping patterns, and it is not just me. Emerging data shows how and where people shop has shifted, which will have a profound impact on how retailers, and consumers, view and utilize stores. The entire store lifecycle – from location strategy, to deal making, construction, lease admin/accounting and facilities maintenance – will be affected.
Over this two-part series we will unpack what has transpired over the last eight months and how it will forever change the role of the store in an omni-channel world. From there we'll explore how retailers and restaurant chains can stay resilient as they regain a pulse on their customers' changing behaviors and transform their store channel into the linchpin of a successful omni-channel strategy. As they say, Location is Everything.

WHAT JUST HAPPENED?
Few industries have felt the wrath of the coronavirus more than retail and restaurant companies have. When the pandemic gained momentum in March of 2020, most retail stores and restaurants closed almost overnight, effectively cutting off the source of upwards of 90% of revenue for non-essential concepts.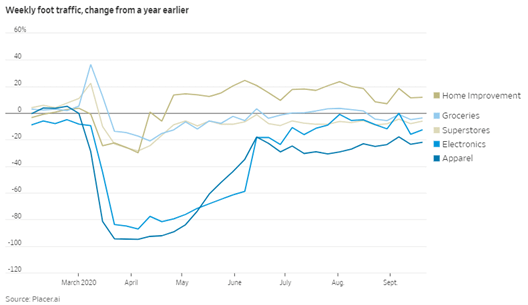 Source: How Coronavirus Changed the Retail Landscape; WSJ, 10/06/20
As you can see from the WSJ chart above, segments were impacted to varying degrees. Essential segments, such as home improvement and groceries saw a bump in store traffic, while apparel and electronics fell off a cliff.
Consumers adapted quickly by shifting online to get what they needed, and most importantly, those who had resisted online shopping in the past were forced to embrace the technology. As a result, ecommerce sales increased 44.5% in the second quarter compared to the same timeframe in 2019.
The fallout was swift for many retailers who had not yet retooled their operations for a digital-first reality. Several mall-based retailers filed for bankruptcy, including J Crew, GNC, Brooks Brothers and J.C. Penney. And almost all retailers accelerated their store rationalization plans by quickly closing marginal and under-performing stores. According to Coresight Research, since April 2020, 5,000 stores in the U.S. have shut their doors for good and only 680 new stores have opened. August alone accounted for almost 2,200 of the closings with only 14 new store openings.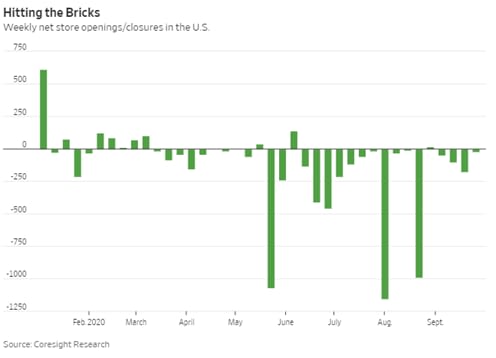 Source: How Coronavirus Changed the Retail Landscape; WSJ, 10/06/20
There is some encouraging news, at least for most segments. Retail sales have been on the mend since late May according to the Commerce Department. Not surprisingly, pure online merchants saw on average nearly a 23% increase in sales from March to August compared to last year, while grocery stores had a 31% increase and clothing stores experienced a 44% decline in sales during that same period.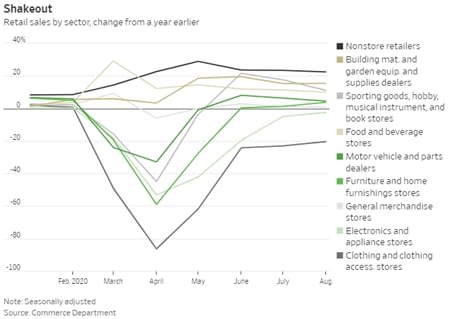 WHAT HAS CHANGED?
Everything, sort of. The operative word here is acceleration. The pandemic has accelerated trends that were already occurring – namely the shift to omni-channel retail. Concepts like Chipotle Mexican Grill, Panera Bread and Target were ahead of the digital transformation curve, and their performance during the pandemic, both from a sales and operational standpoint, are evidence of their foresight.
According to a recent McKinsey Study: In a matter of 90 days, we have vaulted forward 10 years in consumer and business digital adoption.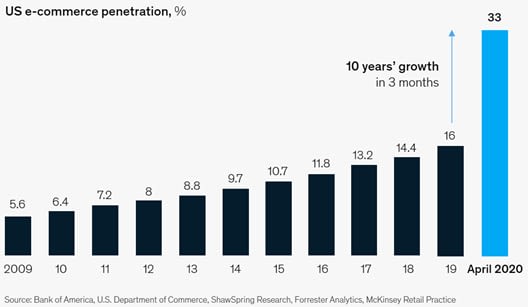 Think about that, in a three-month period we accelerated the transformation to ecommerce by 10 years – welcome to 2030.
The pandemic was a forcing function, unnaturally shifting retail sales online, thus swinging the pendulum dramatically away from in-store. And while stores have reopened (and hopefully stay open) and retail sales are recovering, the data show that things will not return to the status quo. The post-pandemic consumer will be different as will their shopping behaviors.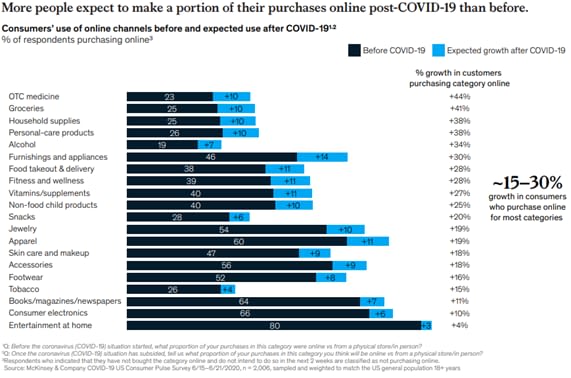 The same McKinsey study identified a profound impact on brand loyalty. As the pandemic raged, many Americans shifted their priorities and shopping behaviors, likely due to fear of job loss and the inability to shop their normal stores. Seventy-five percent of US consumers have tried a new shopping behavior, and most intend to continue it beyond the crisis.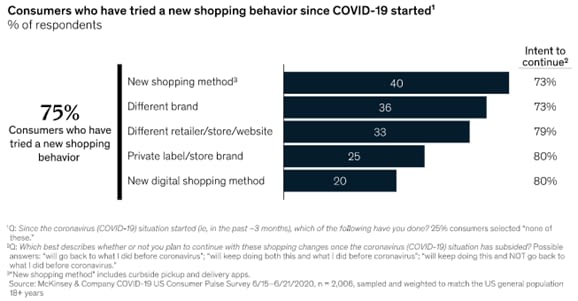 In addition to shifting brand loyalties, US consumers are also changing how they shop in response to health and safety concerns. "Technologies that enhance hygiene, particularly contactless activities such as food and grocery delivery and curbside pickup, are taking off," say the report's authors.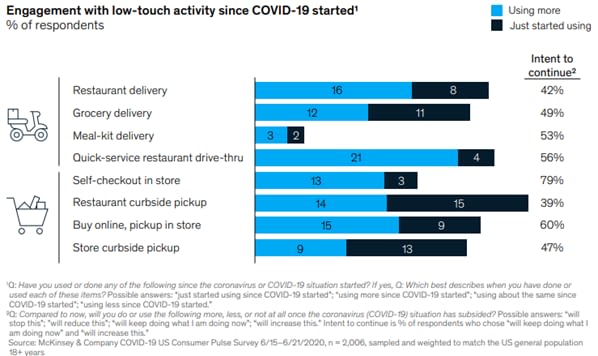 Shopping behaviors are not all that have changed. The pandemic has reshaped the consumer across almost all facets of life – from work, to shopping, travel, entertainment and health and well-being.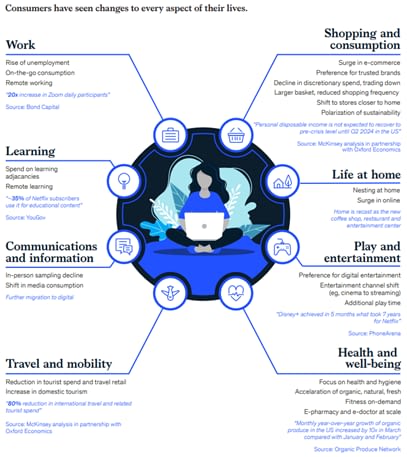 Source: Meet the Next Normal Consumer, McKinsey, August 2020.
Retailers will need to take into consideration a holistic view of the new consumer and rearchitect how they connect consistently across all channels, including the store.
In part-two of the Location is Everything series, we will incorporate the shift in consumer buying patterns and explore how retail and restaurant concepts can adapt their business models to thrive in the next normal with a focus on the critical role of stores in an omni-channel world.