Fundamentally, the role of the Project Management Office (PMO) is to help maintain balance for our customers – between financial obligation, on-time implementation and proper administration. While our number one goal is to drive value for our customer, which means getting everything implemented as soon as possible, it's also important not to run too fast, lose direction or deliver poor quality.  Our number two goal, is to insure smooth-ish execution and communication internally.
After all the holiday reading and reflecting, I realized that the concept of balance, as it relates to the PMO, has two main areas or audiences that require its focus  –  the external customer and the internal team. Creating and maintaining balance for both of these audiences is a critical to delivering value. In this first of this two part blog post, I'll explore the external customer and the key areas that require attention when it comes to creating balance.
When it comes to external balancing, there are a number of different balancing acts one must consider when working with customers.
Project vs. Program vs. Portfolio Management
While we all know a project is a temporary activity with defined objectives and a timeline, sometimes the waters get muddied when dealing with multiple implementations and greater complexity.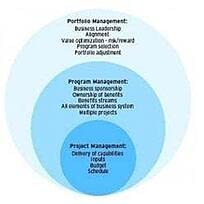 It's the role of the PMO to enforce perspective and ensure everyone is focused on their responsibilities to avoid duplication of efforts and misalignment.
For instance, if Project Managers get drawn into worrying about Sponsorship, it will divert their attention from delivery, which is where it belongs. If Program Managers are asked to manage day-to-day project meetings and tasks, and stop seeing the forest for the trees, they'll neglect to provide the necessary high level, broader view of activities. And if Portfolio Managers (Sponsors) get dragged into stream planning and business systems, they can't effectively drive clarity on portfolio adjustments and adequately assess risk and rewards. Understanding the scope and responsibility of each of these roles, and effectively communicating it, will ensure balance among Project, Program and Portfolio Management.
Partnership vs. Accountability
Having delivered many projects internationally and domestically with many different PM counterparts, one thing always holds true: By holding customers accountable to scope, time and quality, you can be assured they respond as great partners.
Communication, respect and trust are key, and the more informed customers are about issues, risks, costs and status, the better partners they make. In fact, defining the partnership and communicating it effectively help avoid any misunderstandings about what is in scope and what is out of scope from the get go – thereby avoiding issues later on.
Roles vs. Responsibilities
A refresher from Cornell University of standard project roles can be found here, but it is the PMO who need to enforce the establishment and adherence of these definitions. Everyone appreciates knowing what they need to do, and when. Failure to ensure this balance leads to miscommunication, misconception and misses in delivering on both sides.  Clear understanding by leadership at the very beginning results in quicker remediation and a clear understanding of the direction forward.
Requirements vs. Improvements (Wants vs. Needs)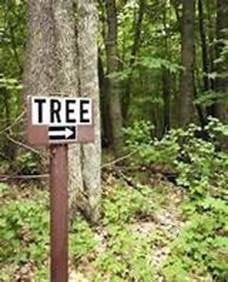 A great ex-coworker of mine has a terrific hand-gesture for this metaphor, which I liberally exploit with clients.  Raise hands wide above head (forest) and bring down to fingertips touching in front of your chest (tree).  She's trained some clients so that she can do it without saying a word the awareness brought is enough to move on. The premise is true and it takes a good Project Manager to constantly bring this perspective to all aspects of the implementation.  Always asking, 'What's OUR objective?' helps keep level heads.
As an example, one of our client's had the strength to pause international market deployments in an effort to bring better consistency through an aggressive timeline.  This shift in balance echoes this approach from Ben Snyder's article on requirements:
… keep in mind, if you're dealing with a new category, there's only so much you can possibly know about the experience that will drive the non-functional requirements. Don't get stuck here or beat yourself up for not being able to predict the future. Anticipate what you can, but realize you'll be limited until the user experience reveals the rest of the story.
The learning process can't be predicted, but applying learning should be balanced against current needs and actions, and that is again the balancing act of the PMO.
Delivery versus OR with Communication
If PMO balance needed a raison d'etre, this would be it. How often have we heard from the perturbed team member that they felt they weren't involved, or from the unhappy customer that the project wasn't on time. If you are lucky, you haven't!  But in reality, it's these lessons that make us better and more effective.Those of us who have worked for the trifecta: consulting, software and client services organizations, know the nuances that each require to be successful – and that it takes a balance in communication in each role to deliver.
The balance the PMO provides means resolving the path forward for the success of everyone.Explore more by downloading Tango's Program & Project Management datasheet below.