WE'RE NOT IN KANSAS ANYMORE
In Part I of Location is Everything we took a deep dive into the effects of COVID-19 on the retail and restaurant industries, including the varying impact on different industry segments. Most importantly, we discussed the acceleration of omnichannel retail, which by some estimates jumped 5-10 years in just 3 months.
Target and Walmart are good examples of this change. During the recent holiday period, Target saw its curbside Drive Up service balloon by nearly 500% with over 150 million items sold through that channel alone. And according to a recent article in Progressive Grocer, for the period ending October 31, 2020, Walmart's online sales grew 79% and they experienced strong performance across all channels resulting in an increase in comp sales of 570 basis points.
CEO Doug McMillion believes the shift in shopping behaviors will persist and that ecommerce accelerated 3-5 years as a result of the pandemic.
"This was another strong quarter on the top and bottom line. Our associates continue to impress during this challenging year. They are working together to serve customers and communities in new, relevant ways and we're very proud of them. We think these new customer behaviors will largely persist and we're well positioned to serve customers with the value and experience they're looking for," McMillon said.
Restaurants have also seen a dramatic, and necessary, shift to pick-up and delivery. In the second quarter of this year, drive-thru orders accounted for 90% of all McDonald's U.S. sales vs. the normal 70%. NPD Group research shows that visits were up 26% for April, May and June. And even as dining rooms opened up in July, drive-thru traffic still increased 13%.
The shift in consumer buying behavior has been dramatic and many of the changes will likely remain in a post pandemic environment. The emerging consumer shops less frequently but buys more at any given time. They have less brand loyalty and are more focused on value for their money, especially in essential categories. Store hygiene and technologies that support a safer shopping experience are also at the top of the list. And finally, consumers want to shop at stores which are closer to home.
Now that we know we are dealing with a different type of customer, it's time to unpack how retailers can adjust to thrive in a retail environment dominated by omnichannel. One where consumers freely traverse channels and retailers are tasked with delivering a cohesive experience across online, delivery, pick-up and in-store activities. And how the store, ironically, is the most critical piece of the omnichannel puzzle – but not in its current form.
To adapt, retailers will need to follow a process to reorient their view of the emerging omnichannel customer, recalibrate sales forecasting and market optimization models, and reimagine the shopping experience and store of the future.

REORIENT
People throw around "omnichannel" all the time, but what does it really mean? Simply put, omnichannel retail is a sales and marketing approach that provides a seamless and cohesive customer experience across different touchpoints – whether the customer is online or in-store.
According to a pre-pandemic study by Harvard Business Review, 73% of all customers use multiple channels during their purchase – or buyer journey – which has only gone up during the crisis. Omnichannel customers are also more valuable, as they spend on average 4% more on in-store purchases and 10% more online than single-channel customers. "Even more compelling, with every additional channel they used, the shoppers spent more money in the store. For example, customers who used 4+ channels spent 9% more in the store, on average, when compared to those who used just one channel", the study noted.
Consumers are behaving differently, have higher expectations and have no problem switching brands if their experience is sub-par. Accordingly, the stakes are higher than ever to "get it right", and doing so starts with a clear understanding of the evolving consumer. The past is no longer a predictor of future behavior, so retailers must reorient themselves around the new consumer, better understand their emerging shopping patterns and focus on delivering a compelling and cohesive cross-channel experience.
In most retail organizations the view of the customer is fragmented across multiple functional silos, each with a different lens when it comes to customers. Three important functions involved in an omnichannel view of the customer are real estate, marketing and merchandising. The real estate department typically looks at customers through a location-centric lens – where can I put stores within a market that maximizes revenue and profitability based on in-store shopping? Marketing focuses on customer awareness and promotion, while the Merchandising Department wants to identify and sell the right product at the right price to the target customer. Surprisingly these three organizations utilize different people, tools and models to understand customers and there is no unified view of them across the enterprise. This must change if retailers hope to successfully deliver across channels.
Another element of reorienting relates to the role of the store in an omnichannel world. The kneejerk, and arguably logical, reaction to an acceleration of online commerce is the diminishing importance of brick-and-mortar stores. In reality, the importance of stores actually increases in an omnichannel operating model. Let's take a deeper dive into different purchase and fulfilment paths in an omnichannel world to better illustrate the role of the store.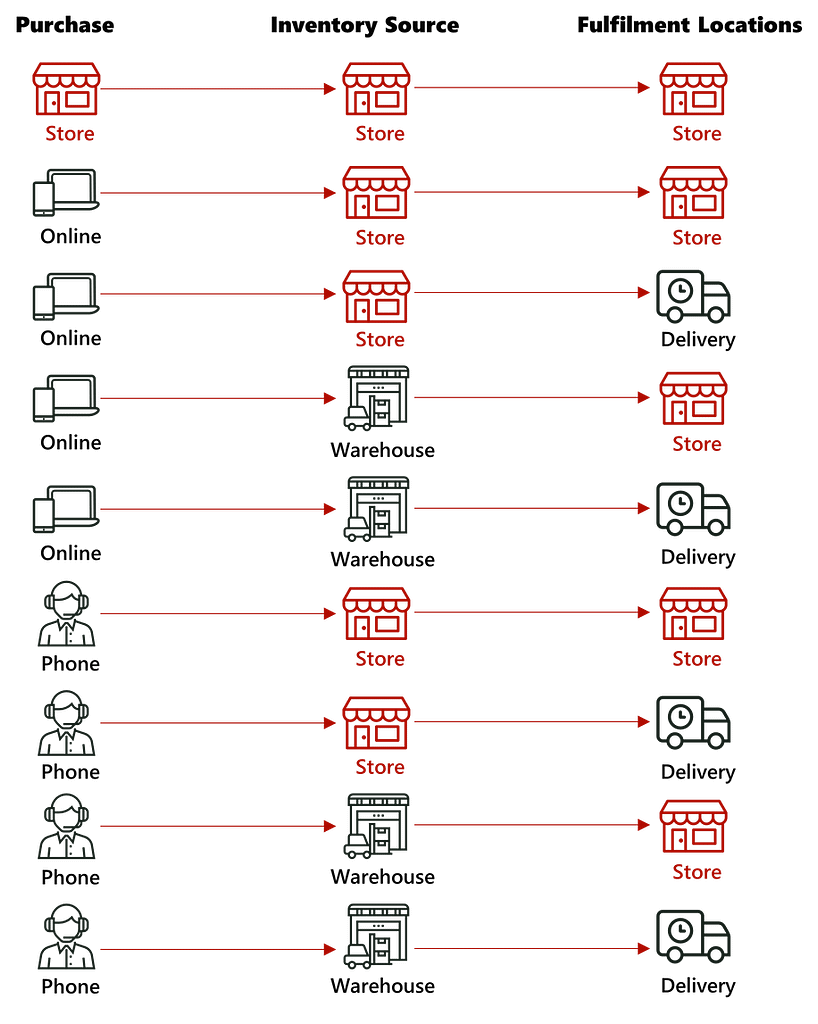 As you can see from the graphic above, stores play a purchase, inventory or fulfilment role in 78% of all scenarios. The importance of the store is further reinforced when you look at the percentage of transactions that flow through each purchase→inventory→fulfilment scenario. As we emerge from the pandemic, the first scenario – which is an all store path – will still account for more than 80% of all transactions. Given these factors, the brick-and-mortar store's role in the future of retail is more important than ever since it is acting as a place of purchase, inventory and customer fulfilment. It also necessarily changes the location strategy paradigm which will shift from optimizing in-store purchases to optimizing purchases spanning in-store, pick-up and delivery – which is a market coverage objective, and what we will dive into next in the recalibrate stage.
RECALIBRATE
We have established a few things so far. First, customers are increasingly shopping across channels and expect a seamless experience when they do so, and if retailers cannot deliver, consumers have no problem switching to a brand that can. Second, in this ever-increasing omnichannel reality, the store is more important than ever as a shopping destination, inventory source and fulfilment point. Clearly, the stakes are higher than ever when it comes to store location strategy and the integration and coordination of all customer touchpoints – in and outside the store. Let's start with the location strategy question and then move into cross-channel communication.
Given the undeniable shift in consumer shopping behavior – and the lack of clarity as to what degree these new behaviors will remain once the pandemic subsides – we know conclusively that modeling customers based on historical data is a non-starter. Traditional store sales forecasting models use historical observations to determine future performance – a rear-view mirror approach to forecasting. They are incapable of considering complex, non-linear relationships, or of updating rapidly to reflect new and refreshed data. In addition to a changing customer, retailers are also dealing with a rapidly shifting competitive landscape as many companies have closed locations or gone out of business, which will vary from location to location and trade area to trade area. Finally, the modeling calculus has changed as retailers now must take into consideration not only in-store shopping, but also pick-up and delivery. Clearly the old way of modeling is not sufficient for an omnichannel world. (link to Mark and Devon's blog on this topic)
To adjust to this new reality, retail and restaurant concepts must turn to innovative technology in the form of artificial intelligence (AI) and machine learning (ML) to more quickly understand the new normal, thus enabling better decision making and recovery. The advantage of AI/ML-based sales forecasting models are plentiful, and their strengths map nicely to the dynamic environment retailers are facing. At the top of the list is the ability to rapidly sift through old and new data sets and apply dozens of different algorithms to find the best combination of models to interpret the current environment and more accurately forecast sales. These techniques can process large volumes of information and discern patterns that are beyond the capabilities of human analysis, especially when the underlying data is changing frequently. Speed is also a big advantage of AI/ML models, both in the development of the initial model and the ability to recalibrate rapidly as the environment changes. And it is not only just about innovative technology. Market research teams typically do not have the time to monitor, collect, compile, aggregate and analyze these large data sets to determine relevance and are not staffed with the data science teams necessary to develop solutions in-house.
REPOSITION
Brick-and-mortar location strategy is a long game. For almost all retailers, stores are leased and not owned, and each location has a lease with a term of between 5 and 10 years. Adding complexity, leases are signed at different times, resulting in a rolling portfolio of leases coming up for renewal. For large portfolios, this translates into hundreds of lease renewal decisions throughout a given year, forcing retailers to constantly answer the key question: is this a good location? In a vacuum that may sound like a straightforward decision – but retailers must take into consideration all their locations in the market (under development and existing) as well as the shifting competitive landscape. And now, they also have to consider a customer who is changing their shopping behaviors. So, what may seem straightforward is actually extremely complex – and retailers are placing 5-to-10-year bets with each location. I know Vegas would not like those odds.
Repositioning is not only about where stores should be located, but also about the store itself – i.e., the configuration of the box. At any given time, retail and restaurant concepts have multiple store prototypes within their portfolio and are usually in a perpetual motion of remodeling older stores to the new prototypes. The pandemic, and more specifically the resulting changes in shopping behaviors, has thrown a wrench into the typical cadence of this process. When the pandemic hit, retailers had to rapidly react to new safety requirements and the dramatic shift in how people were buying. The result was an ad hoc and often aesthetically unpleasant transformation of stores – temporary plexiglass, stickers on the floor, closed fitting rooms, pick-up sections – to name a few.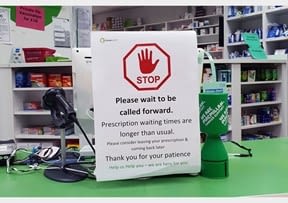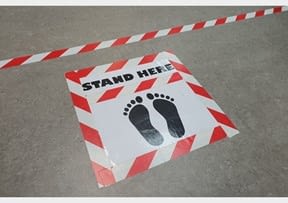 Dine-in restaurants quickly shifted to pick-up only and QSRs attempted to handle almost 100% of traffic via their drive-thru windows. The results were not pretty. The stakes are very high for QSRs, who according to a report from market research agency SeeLevel HX, could lose $64 million annually per 2,000 stores with slower average times.
Reactive short-term changes to store layouts aside, retail and restaurant concepts need to think through which pandemic-inducing changes are needed for the long-term and incorporate those changes into new stores being built, then circle back to existing locations and remodel them accordingly. Several companies are already well down that path and are rolling out new concepts.
A recent article in Restaurant Business, Quick-Service Chains Plan for a Fast Future, highlighted this new reality.
"Companies like Burger King, Taco Bell, McDonald's, Chipotle and KFC decided to start rethinking prototypes, removing seats, adding drive-thru lanes and toying with ideas like conveyor belts and digital cubbies."
This graphic in the Wall Street Journal illustrates the amount of change stores will likely be undergoing.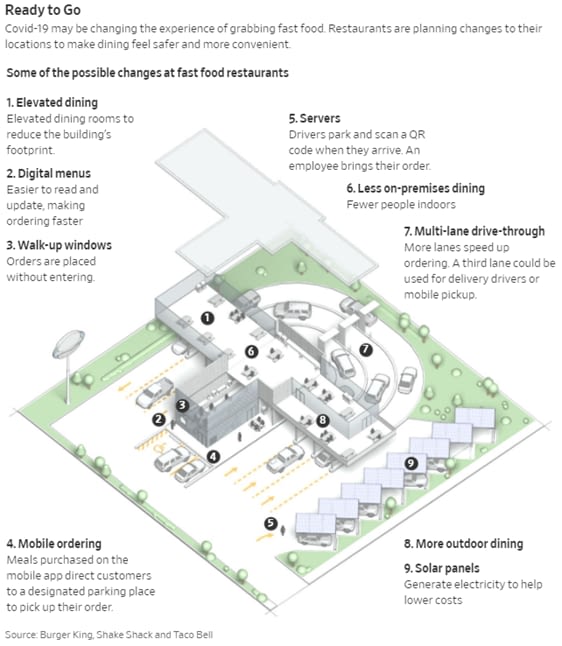 BRINGING IT ALL TOGETHER
Clearly, there is a lot of investment to be made and work to be done. What is underappreciated is the cascading effect these changes will have across the entire location lifecycle. And unfortunately, most retailers do not have the systems and tools to facilitate the strategy and execution necessary to pull of this once-in-a-century pivot.
Think about it; we've already unpacked the location strategy challenges of an omnichannel reality, which are complex and require new technologies and tools. The task becomes no less daunting when we examine the execution of new location strategies and store prototypes. Real estate transactions and lease negotiations increase as retailers try to exit bad locations, renegotiate existing locations, or close on new locations. Design and Construction personnel must now revamp prototypes for new stores and build them, and remodel existing locations with those new prototype changes. Lease Administration departments must research existing leases to better understand rights and obligations while enabling deal maker negotiations with landlords. Accounting teams must ensure all the financial gymnastics are compliant with the new lease accounting standards. And don't forget the Facilities Maintenance staff who must now design and follow heightened safety and cleaning protocols across the entire fleet of stores, while also supporting the installation and maintenance of new equipment and technology within each one.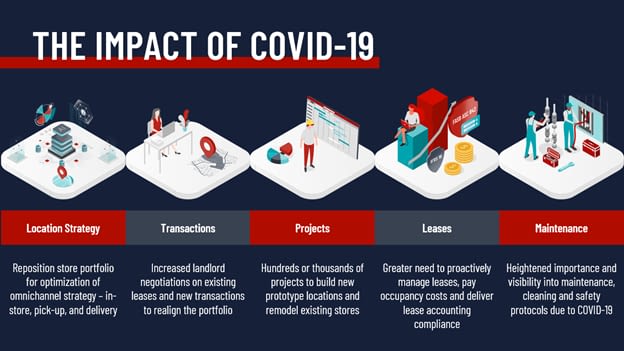 We're not exactly sure what the post-pandemic future holds, but we do know getting there will require a new set of tools and capabilities. Retail and restaurant concepts must reorient around a new customer, recalibrate sales forecasting models to adjust to a rapidly changing consumer, and finally, reposition where stores are located and how they operate to optimize an omnichannel strategy.
At the center of it all, now more than ever, is the brick-and-mortar store. Going forward, truly Location is Everything.